With the curtains closing at the ITU World Radiocommunication Conference 2019 (WRC-19) our journey to Sharm El-Sheikh, Egypt is also coming to an end.
Over the last four weeks, AsiaSat's spectrum team has joined efforts to protect the satellite industry's continued access to essential radio spectrum and to decide on the regulatory conditions that would facilitate the development of future generation satellite networks.  
Given the scarcity of radio spectrum, the introduction of new applications -- e.g. Intelligent Transport Systems (ITS), Railway Radiocommunication (RSTT), Radio Local Area Networks (RLAN), IMT (used in reference to 5G terrestrial mobile networks), High Altitude Platform Stations (HAPS) has led to calls for the sharing of spectrum currently allocated for satellite communications, either fully or partially.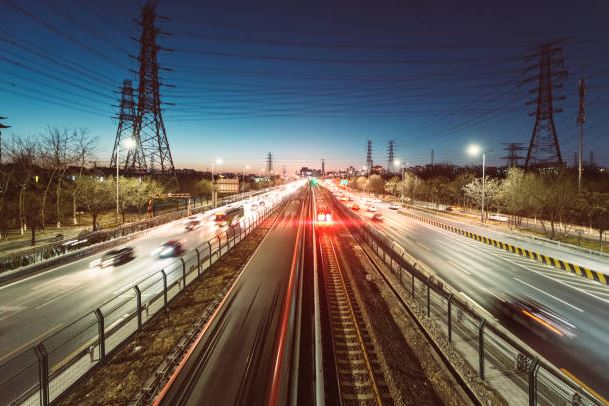 Our common objective at the conference has been to ensure that key decisions relating to spectrum allocations would be made with due consideration for the impact on the satellite industry and its long-term viability.
Spectrum Sharing for Satellite and Terrestrial Networks
The decisions made at the conference have mostly worked towards ensuring the integrity of use of the radio spectrum currently used by the satellite industry. As often happened before, the identification of spectrum for IMT (5G) tends to attract a lot of attention. At WRC-19, several more countries have signed on to IMT identification in the 4.8-4.99 GHz band, which is adjacent to "planned" C-band satellite downlink at 4.5-4.8 GHz.
The conference also saw the 24.25-27.5 GHz band identified for IMT whereas 24.65-25.25 GHz and 27-27.5 GHz bands have previously been allocated for satellite use in the Asia-Pacific. In particular, the identification in the 27-27.5 GHz band may have an impact on satellite operators in the region since this band has been slated for Ka-band HTS systems. Furthermore, 9 GHz of bandwidth in the 40-50 GHz band has been identified for IMT, out of which 8.5 GHz is overlapping with satellite spectrum that has been planned for next generation ultra-high throughput satellite (UHTS) systems.
In addition to IMT, the HAPS downlink identification in the 38-39.5 GHz band will have an impact on the provision of Fixed Satellite Service (FSS) since this falls in the middle of the frequency band slated for UHTS systems.
Regulating the Operation of LEOs for its Co-existence with GSOs
In the last several years there has been renewed interest in low earth orbit (LEO) satellite constellations, which is a subset of non-geostationary orbit (non-GSO) satellites. Non-GSO satellites and geostationary orbit (GSO) satellites normally share the same frequency bands. Due to the increased interest in non-GSO satellites, new measures have been adopted at WRC-19 to better regulate the operation of non-GSO satellites and its co-existence with GSO satellites. New rules have been established requiring large non-GSO systems to meet a fixed implementation schedule in order to retain their spectrum usage rights.
Under the new "milestone-based" approach, non-GSO systems will have to deploy 10% of their constellation within two years after the end of the current regulatory period for bringing into use, 50% within five years and complete the deployment within seven years.
In addition, the conference decided to not relax the protection of GSO satellites from non-GSO satellites at C-band such that the current level of protection of GSO is retained.
Furthermore, the conference established quantified criteria for protecting GSO satellites from non-GSO satellites in the Q/V-band (40-50 GHz). This band has been planned for next generation UHTS satellite systems. A side effect of this decision was that the limits for GSO satellites to protect passive Earth Exploration Satellite Service (EESS) in adjacent bands were significantly tightened.
Improved Provisions Allowing Satellite's Better Access to Spectrum for Future Services
Measures have been adopted at WRC-19 to support growing demand worldwide for Earth Stations in Motion (ESIM), or mobile terminals providing high bandwidth Internet service to cars, trains as well as aircrafts and ships. This is a valuable enhancement to the portfolio of applications that can be offered via the new generation of HTS satellites which is currently being developed.
As spectrum orbit resources are getting increasingly crowded, the utilisation of the "planned" bands (in C- and Ku-band) is becoming important to support growth of future services. At WRC-19, changes have been made to the regulatory provisions to enhance access to important parts of these "planned" bands. The conference also allocated the 51.4-52.4 GHz band to satellite uplinks to better balance the uplink and downlink satellite spectrum in the 40-50 GHz band.
Final Thoughts
There are clouds in the horizon, however. As more terrestrial services and applications, in particular broadband applications, are coming into the market, taking up ever more data capacity and demanding for more spectrum, they are looking to take away spectrum resources that are needed to maintain the key services provided by the satellite industry. In this respect, the agenda for WRC-23, which has been adopted at the conference contains several agenda items that may have an impact on the satellite industry's access to critical spectrum resources.
The satellite industry therefore will need to keep a close watch on preparations for future WRCs as well as spectrum usage consultations and decisions by individual administrations with a view to ensure satellites' continued access to spectrum free of harmful interference and room for future deployment of satellite applications and services.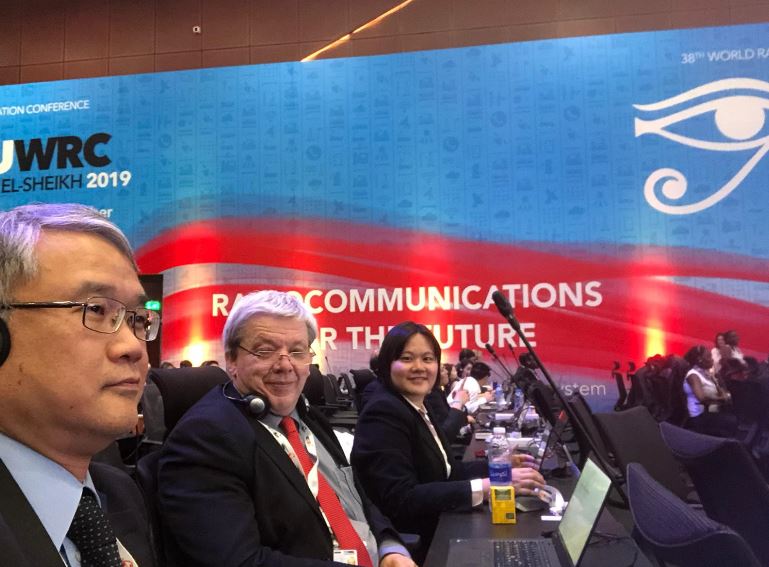 AsiaSat's spectrum team (from left to right: YH Chan, Per Hovstad and Vicky Wong) at WRC-19.