Asia Satellite Telecommunications Company Limited (AsiaSat), a leading satellite solutions provider, together with its subsidiary One Click Go Live (OCGL) use AWS for live streaming and to roll out new applications and services swiftly without the need to worry about infrastructure stability and scalability. Leveraging AWS solutions, OCGL is able to provide innovative and highly reliable services to global customers and enhance real-time viewing experiences.
Headquartered in Hong Kong, AsiaSat offers managed media services with an end-to-end solution that addresses the changing dynamics of the video ecosystem. AsiaSat's diverse portfolio of media services includes content distribution for broadcasters and content providers via Direct-to-Home (DTH) and cable platforms; Digital Terrestrial Television (DTT), IPTV and Over-the-Top (OTT) networks; hotel networks and a new live streaming service powered by OCGL.
"As customer demand increases, we have a need to upgrade the OCGL platform so that we can flexibly scale and deliver high-quality live video streaming services to a growing pool of concurrent viewers from around the world," said Samuel Yip, General Manager of One Click Go Live Limited. "Real-time content delivery to audience is time-critical, no matter the scale, from corporate events to sports and live auctions. AWS media solutions can offer low latency and broadcast-grade video quality which matches our needs perfectly."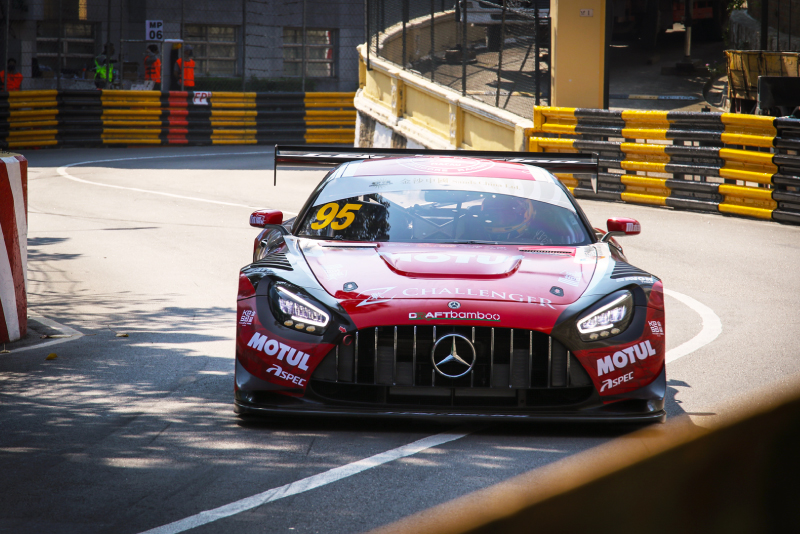 "Our acquisition of a majority stake in OCGL in 2021 was a strategic move to enrich AsiaSat's service portfolio. With AWS, OCGL's live streaming service now combines the power of satellite broadcasting with IP-based distribution at scale for the delivery of premium events, for example, live telecast of the Macau Grand Prix and the 25th anniversary of the establishment of the Hong Kong SAR," said Roger Tong, Chief Executive Officer of AsiaSat.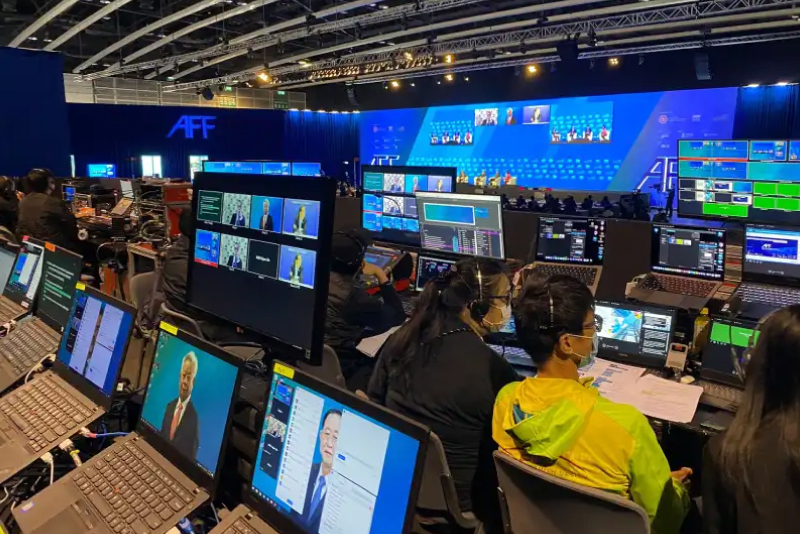 Satellite broadcasting is a one-to-many distribution system that lets content providers cost effectively, rapidly and flexibly deploy delivery platforms that reach viewers in even the most remote areas. By using AWS, OCGL's live streaming solution extends this content delivery to a global audience on any device anywhere with terrestrial connectivity and provides options of features to boost audience engagement.
Market research firm Technavio forecasts global live streaming market to grow at a CAGR of 13.47% and by US$29.06 billion between 2022 and 2027, with the APAC region accounting for 49% of that expansion. Technavio further predicts APAC will remain the largest geographical segment outpacing those in North America and Europe during this forecast period.
In response to this market growth trend and increased requirements for close to real-time content delivery to massive audience across the globe, OCGL is in the process of upgrading its live streaming solution from an on-premises infrastructure to the cloud with AWS. This enables OCGL to deliver unparalleled live streaming experiences to consumers globally with broadcast-grade video quality and widespread accessibility that extends beyond AsiaSat's geographical satellite footprint coverage. By collaborating with AWS, OCGL can help AsiaSat meet increased customer demand and strengthen content engagement with viewers.
Using AWS, OCGL can significantly broaden its service portfolio targeting consumers and businesses. To-date, OCGL has successfully delivered more than 1,000 professional live broadcast sessions in some of the notable events for corporations, businesses, medical and educational sectors, reaching an audience of over 20 million in more than 50 countries and regions.
Built on the AWS Global Cloud Infrastructure, OCGL's managed services can securely and reliably transport, prepare, process and deliver live and on-demand content in the cloud. These include leveraging AWS Elemental MediaConnect and AWS Elemental MediaLive to convert live inputs into outputs for broadcast and multiscreen video delivery, using MediaPackage to prepare, protect and package the live content and Amazon Cloudfront to deliver live content globally via AWS Global Infrastructure Network while combining with AsiaSat's satellite transmission networks.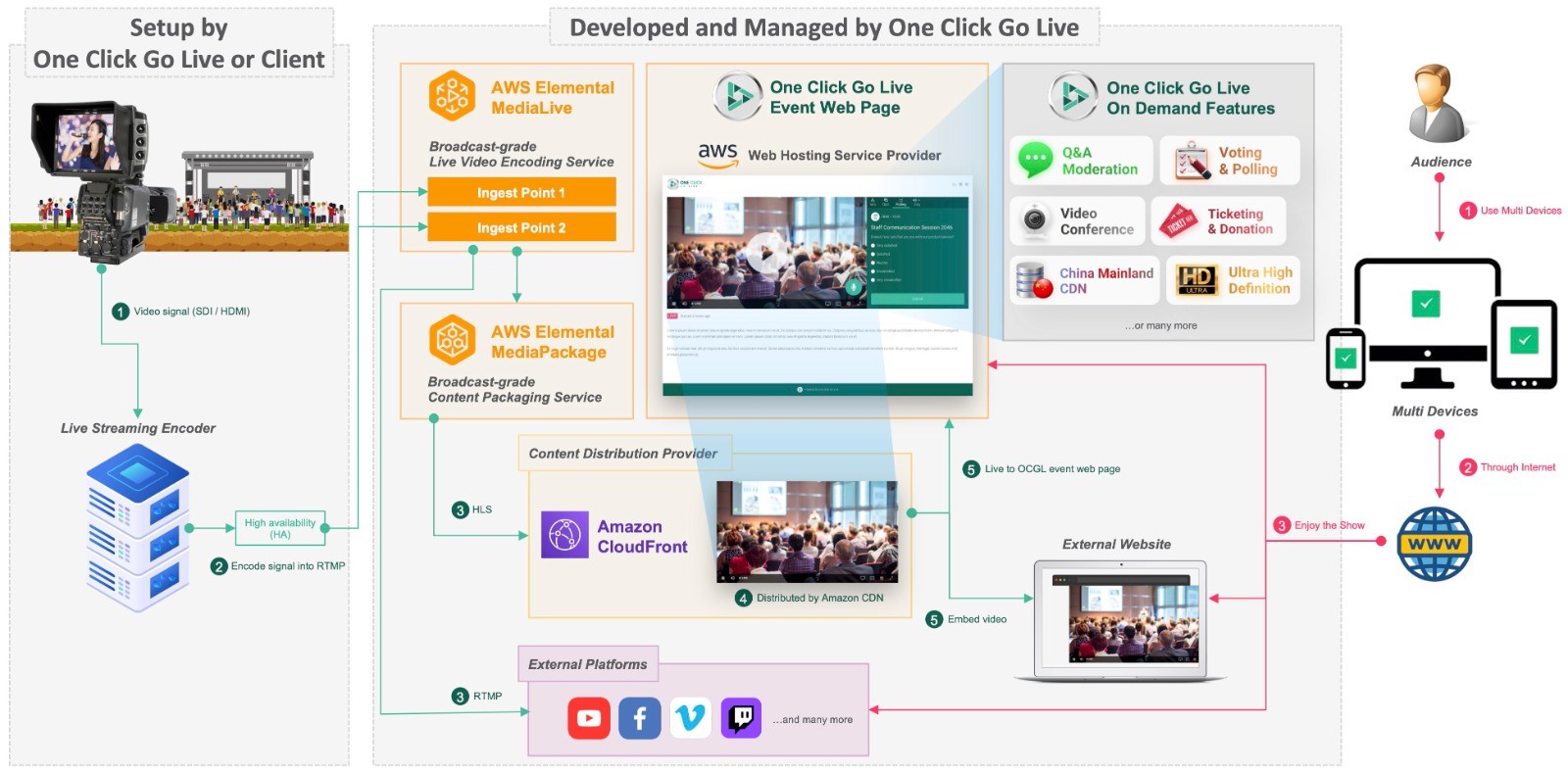 In supporting content distribution of live events with unpredictable spike in traffic, for example, when validating authorisation of up to millions of audiences to join online orchestras and concerts, OCGL recognises the importance of utilising a fast and flexible compute platform and database service to provide audiences with instantaneous and uninterrupted access to the event. By leveraging AWS Lambda, a serverless, event-driven compute service, OCGL can flexibly scale cloud-based processing resource up/down to match the data volume automatically and enable custom event triggers to support 99.99 to 99.999 percent availability. "Five nines", or 99.999 percent uptime, is considered to be a global industry standard for high network ability for uses like websites and video streaming services.
OCGL continues to explore new innovations by leveraging on AWS Cloud's integrated capabilities. "While evaluating our platform upgrade requirements, we find that many of AWS services can be integrated as new features into our live streaming applications. For example, Question & Answer (Q&A) feature using Amazon MemoryDB for Redis and Data Analytics application using Kinesis data stream to capture user events and feed into our analytic engine. The use of AWS Cloud services allows us to roll out new applications faster without the need to concern about infrastructure stability and scalability," said Andy Chang, Chief Technology Officer at OCGL.
Read more about AsiaSat's media solution offerings
Read more about OCGL live streaming services