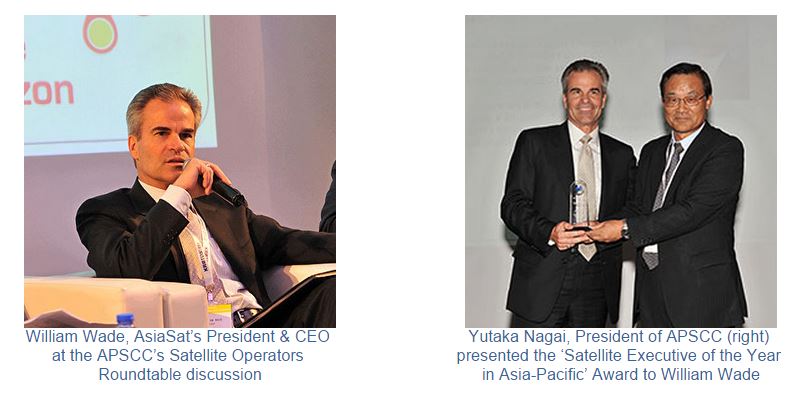 At the APSCC Satellite Conference held in Hong Kong last week, AsiaSat executives with hundreds of industry experts and practitioners shared their views on the growth opportunities and new applications of the major satellite markets in the Asia-Pacific region. On the same occasion, AsiaSat's President and CEO, William Wade was presented the 'Satellite Executive of the Year in Asia-Pacific' Award.
During the kick-off 'Satellite Operators Roundtable' session on 24 September addressing the supply and demand issues in Asia, Wade pointed out the importance of adding flexibility to adapt to changing market needs while building new satellites. The company's upcoming satellites AsiaSat 6 and AsiaSat 8 are designed with specific applications and markets in mind to meet the growing demand for quality C and Ku-band satellite capacity in the region.
AsiaSat's Vice President, Business Development, Philip Balaam also took part in a panel discussion on 'Government and Commercial Hosted Payloads', at which satellite operators talked about various aspects of hosted payloads, from opportunities to challenges. Though hosted payloads are still limited in Asia, AsiaSat has taken the initiative in exploring this new market through a partnership with GeoMetWatch to host a hyperspectral STORM sensor on AsiaSat 9, one of AsiaSat's future satellites planned for launch in 2016, for collecting atmospheric and weather data over Asia and the Pacific region.
Fred Ho, Director, Technical Operations of AsiaSat was invited to host a Satellite RF Interference Mitigation Workshop. During the session, satellite operators actively shared satellite interference issues and cases, and ways to mitigate interference during satellite operations. Furthermore, at the 2013 APSCC Awards Ceremony held on 24 September, Wade was presented the 'Satellite Executive of the Year in Asia-Pacific' Award in recognition of his contributions and achievements to the satellite communications industry.
To discuss business and to learn more about AsiaSat's new initiatives in broadcast and satellite communications services, meet AsiaSat's sales and marketing team at upcoming industry events: