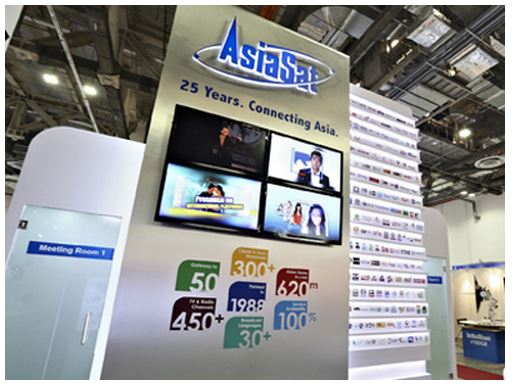 AsiaSat exhibited at CommunicAsia 2013 on 18-21 June in Singapore. Over 25,000 trade visitors from around the world attended the event.
During the exhibition, AsiaSat showcased its expanding satellite fleet including upcoming AsiaSat 6 and AsiaSat 8 satellites while AsiaSat's broadcast users also demonstrated their latest range of HD and SD TV programming across AsiaSat's fleet.
AsiaSat also took part in a panel discussion on 19 June at CommunicAsia Summit on 'The Future of Satellite Business'. Sabrina Cubbon, Vice President – Sales and Marketing of AsiaSat shared her views about the demand and growth potential of the Asian satellite business, and how new technologies and regulations shape the development of the industry.
Click here to view AsiaSat's interview with SatTV at the show on AsiaSat's developments and upcoming activities.