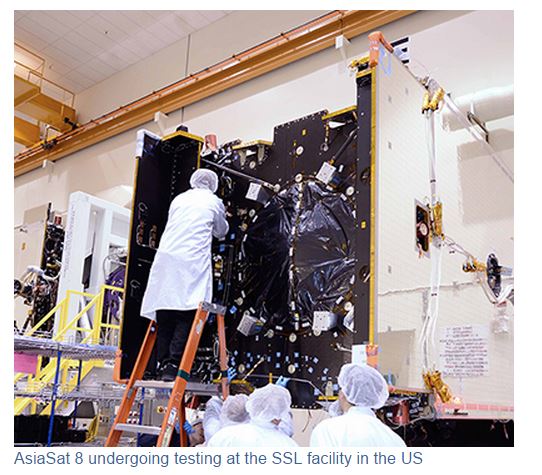 AsiaSat 8, AsiaSat's latest Ku and Ka-band satellite, will complete Reference Performance Testing (RPT) of the payload and bus subsystems in September. Measurements from the RPT will help confirm that the payload meets the demanding AsiaSat requirements.
Thermal vacuum testing of the AsiaSat 8 spacecraft is scheduled for October. During the thermal vacuum testing, the spacecraft will be subject to environmental conditions similar to the space environment of high vacuum and extreme temperatures.
AsiaSat 8 offers exceptional power and unique coverage that are designed for DTH, data broadcasting and mobile backhaul services in the high growth markets of India, China, South East Asia and the Middle East. With 24 Ku-band transponders and a Ka-band beam, the Space Systems/Loral-built AsiaSat 8 will be co-located with one of AsiaSat's existing satellites.
AsiaSat 8's multiple Ku-band beams are equipped with inter-beam switching capability to meet specific applications, for example, signals uplinking from the South East Asia beam can be switched for downlinking in any location within the Middle East beam. With its Ku-band TWTAs at 210 watts, the highest power amplifiers ever launched in Asia, AsiaSat 8 will offer high downlink EIRP up to 57-59 dBW. AsiaSat 8 is planned for launch in the first half of 2014.