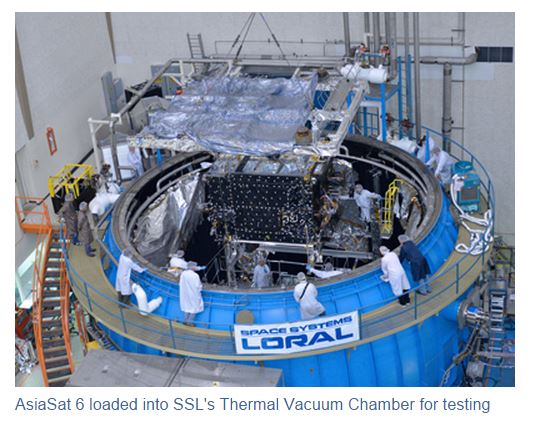 AsiaSat 6, one of AsiaSat's latest satellites, is in the process of Spacecraft Thermal Vacuum (SCTV) testing to ensure the bus subsystems of the satellite meet the performance and environmental requirements for safe on orbit operation.
AsiaSat 6 is planned for launch in the first half of 2014. A Space Systems/Loral (SSL) 1300 series satellite to be positioned at the nominal orbital position of 120°E, AsiaSat 6 will have 28 high-powered C-band transponders. It will carry a Global beam and a Regional beam, offering optimised performance over Asia, Australasia, Pacific Islands and Central Asia for services including video distribution and broadband networks.
Equipped with 100W high power amplifiers to provide high downlink EIRP up to 41 dBW across the satellite's coverage, AsiaSat 6 significantly improves AsiaSat fleet's capability in offering enhanced power and coverage in the Asia Pacific, including the Pacific Rim region.