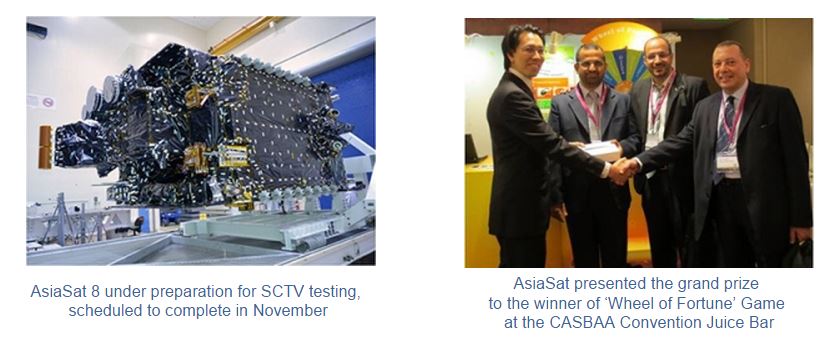 With AsiaSat 8 and AsiaSat 6 launches in April and May respectively next year, new C and Ku-band capacity from these two satellites will expand the company's fleet inventory and fuel further business growth.
William Wade, President & CEO of AsiaSat took part in the Satellite Operator panel discussion at the annual CASBAA Convention in Hong Kong last month outlining the company's future satellite plan. AsiaSat 8 will offer four Ku-band beams and one Ka payload at 105.5 degrees East whereas AsiaSat 6 will have 24 C-band transponders at 120 degrees East.
AsiaSat also hosted a juice bar and the AsiaSat's 25th anniversary 'Wheel of Fortune' game at CASBAA.
The AsiaSat team then travelled to Hanoi to participate in an exhibition at the ABU General Assembly held on the 28th and 29th of October. AsiaSat showcased the comprehensive reach of its satellite fleet and its new service offerings to over 680 delegates of 155 organisations from 54 countries and regions at the meeting.