1. Background
Higher data rates, ultra-low latency and massive machine-type connections, these are some of the promises of the fifth generation (5G) mobile communication that have caught tremendous media attention. In order to make 5G possible, mobile operators have taken up a number of different frequency bands, including C-band spectrum, which has been used by satellites for over five decades. In a number of countries and regions, some portions of C-band spectrum have been seized upon by mobile operators to "kick-start" the 5G commercial deployment. But as we should argue, C-band is not the correct band to support the key performance indicators (KPIs) promised by 5G.
For decades, the use of satellite has complemented landline infrastructure to connect the world's underserved regions, with C-band spectrum being used by GEO communication satellites to provide comprehensive coverage over a continental-wide footprint. The current C-band 5G network deployment amounts to only a transitional phase for the mobile industry, however it has significantly disrupted the existing C-band satellite services. To understand the interplay between 5G and satellite communications, we should first look at whether all the talks about using C-band 5G to unlock the benefits of 5G is as good as it seems.
We have picked two of the key 5G KPIs, user experienced data rate and latency for a closer look. The other 5G KPIs are shown in the radar chart of Figure 1, including peak data rate, spectrum efficiency, mobility, connection density, network energy efficiency and area traffic capacity .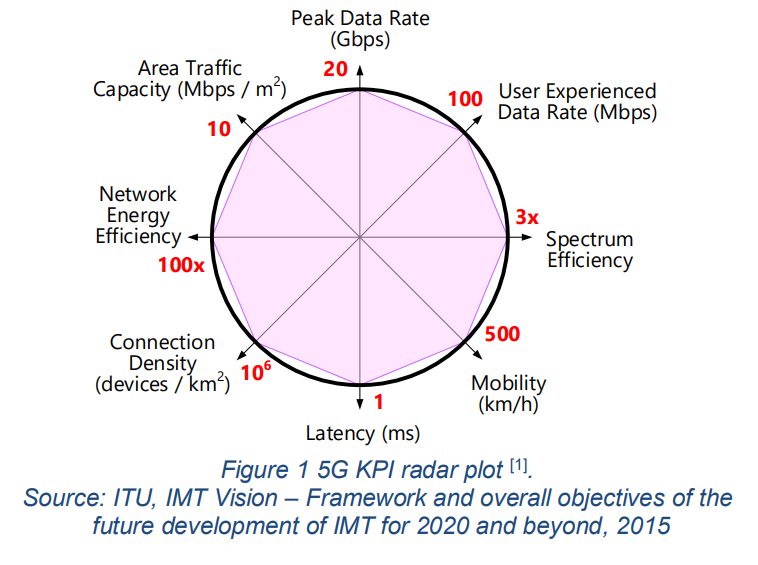 2. 5G KPI – User experienced data rate
It will be shown that operating a 5G network using C-band cannot achieve the user data rate KPI – not even by a long shot. The 5G user experienced data rate KPI of 100 Mbps (as shown in Figure 1) can be achieved on simulations or tests under ideal conditions, e.g. single user, with no inter- or intra-sector beam interferences [3] [4] . However, if the number of beams (inter-beam interference), available bandwidth, antenna and RF power performances are counted in the simulation, it can be found the realizable data rate will be far less than expected when the number of users increases. Evidently, much wider bandwidth at a much higher frequency than the C-band spectrum must be used to reach the KPI goal. Latency (ms) Mobility (km/h) Spectrum Efficiency User Experienced Data Rate (Mbps) Peak Data Rate (Gbps) Area Traffic Capacity (Mbps / m 2 ) Network Energy Efficiency Connection Density (devices / km2 ) 1 500 3x 100 20 10 100x 106 Page 2 of 7 In this simulation, we try to estimate the average throughput per user that a 5G active antenna system (AAS) can deliver to the end users when multiple beams generated by the AAS uniformly populate the desired coverage sector. The factors to be taken into account include a total 100 MHz C-band spectrum, 64T64R AAS with 200 W total output power, inter-beam interferences, and the gradually increased number of users served by the multiple beams formed by the 5G antenna array.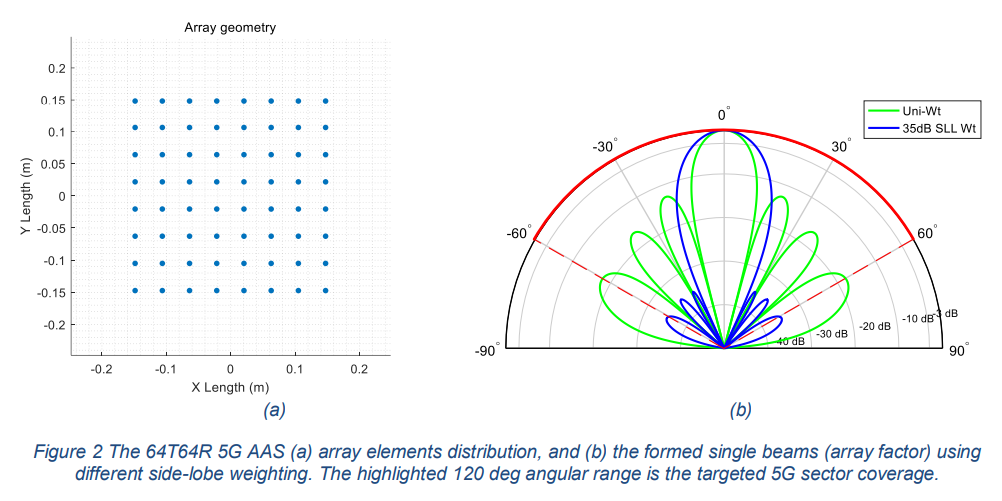 A typical 5G 64T64R C-band AAS array elements distribution is shown in Figure 2(a). The digitally-formed single beam without steering is shown in Figure 2(b) where the highlighted angular range is the targeted 5G coverage sector. Applying different digital beamforming (DBF) weightings to the array elements, the beam side-lobe levels (SLL) as well as beam nulls can be controlled to reduce the co-channel interference to other users. The digitally-formed beam can be electrically steered in azimuth, elevation or both directions. Besides, the phased array can also form multiple beams for one or multiple users at the same time. However, when the number of simultaneous beams increases, the inter-beam interferences can become severe and may degrade the link performance.